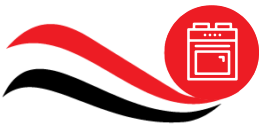 Industrial Baking Solutions — Baxter Ovens
Improving the World of Industrial Food Production Since 1962

Versatile, consistent, and less labor-intensive, Baxter Industrial Ovens & Proofers are specifically designed for unparalleled performance:
Weldless multi-tube heat exchanger designed for lasting durability and even heat transfer.
Patented steam system provides consistent steam volume
Easy loading and unloading
Available in gas and electric
Backed by Hobart's nationwide network of factory-trained service technicians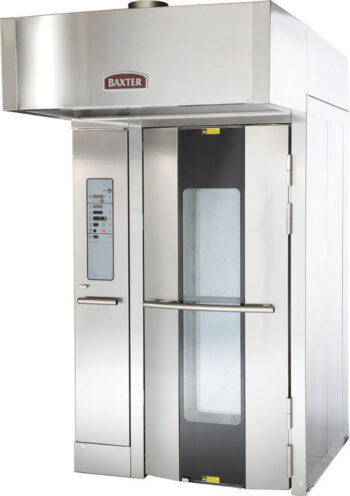 Baxter Gas & Electric
Rotating Rack Ovens
Programmable digital control with 99 programmable menus
Four-stage baking
Auto on/off control
Cool-down mode
Energy-saving idle mode reduces oven to customized standby temperature for maximum energy savings
Three pane viewing window provides safe to touch exterior
Dual panes of glass & a low-E coating on the interior
Hinged single exterior pane allows cleaning access to both sides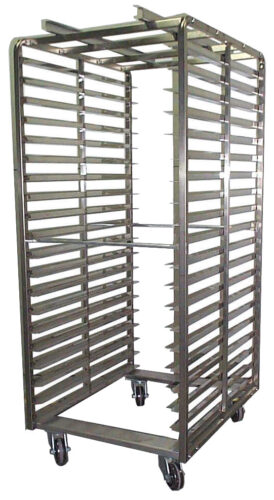 Baxter Oven & Proofer Racks
Designed for ovens and proofers in aluminum or stainless steel
Racks are constructed with 4″ swivel casters and tops compatible with Baxter rack ovens
Broad range of size configurations and slide spacing for the right rack for your application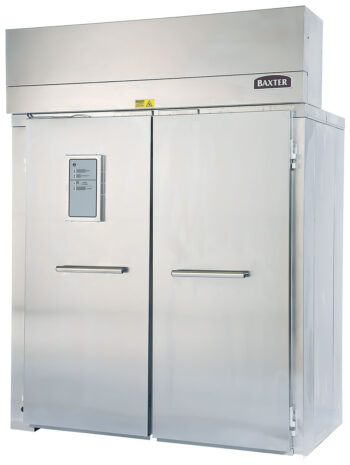 Baxter Proofers
Patented airflow system
Easy access heat and humidity system
Internally mounted
No flushing required
Eye-level digital control panel
Set heat/humidity system
Set retarding temperature
Four independent timers
Stainless steel interior and exterior
Modular panel construction with cam lock attachment
Field assembled — shipped knocked down
99.5″ overall height to match rack oven
Programmable 24-hour timer for one or seven day cycle
Configured for remote R448A refrigeration
Open floor — no ramp required
Options & Accessories
Low profile, 94″ overall height
Stainless steel floor — no ramp required
Self-contained R448A refrigeration — 40.5″D and 60.5″D only
Configured for remote R407A refrigeration
Interior light
Prison package
Upper side trim — 1 or 2 sides
Our goal is to help you determine the right Baxter Proofer, Ovens and Racks for your Industrial & Commercial production needs.
Contact our Industrial Sales Consultant to move the process forward.
Click to call, or dial 336-765-8950.